We now offer highly competitive wholesale and quantity discounts for all Photography & Artisan Communities, or a discount for first time
"New Customer" orders.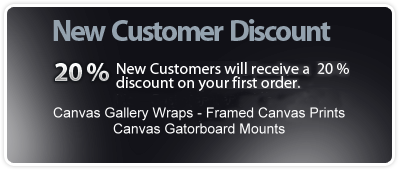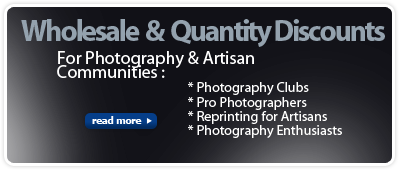 ( Please Note : discounts cannot be combined ; only one discount can be applied to each order. )
For your convenience, we have provided this pricing chart showing select print media types and mountings in our most popular sizes.
Please refer to the Pricing Caculator below to view all of the available choices and to calculate your price for custom sizes not listed in the pricing chart.
For a complete description of all prints and mounts, please go to our "Printmaking & Mounting Services" page or you can simply click on any image below to view a brief description of each.
NEW : You can now download and save the above "Pricing Guide" as a PDF file :

SIZE
W"x H"

Economy
-------------------
Epson
Premium
Luster
-------------------
Epson
Enhanced
Matte
-------------------
Phototex
Adhesive
Fabric

Premium
-------------------
Canson Edition
Etching Rag
-------------------
Ilford Gold
Mono Silk
-------------------
Epson Hot
Press Bright
-------------------
Lexjet Metallic
-------------------
Pictorico High
Gloss White
Film

Ultra Premium
-------------------
Canson Platine Fibre Rag
-------------------
Canson Print Making Rag
-------------------
Epson Japanese Kozo Thin
-------------------
Hahnamuhle
Fine Art Baryta

Lexjet Matte

Lexjet Matte
3/4" | 1.5" | 2"

Lexjet Matte

Canvas
Mounted
to Gatorboard
-------------------
3/16" | 3/8"

4 x 5 Crop

8 x 10

$5.60

$7.20

$8.80

N / A

N / A

N / A

N / A | N / A

12 x 15

$12.60

$16.20

$19.80

$23.40

$45.00|$48.60|$50.40

$54.00

$34.20 | $36.00

16 x 20

$22.40

$28.80

$35.20

$41.60

$80.00|$86.40|$89.60

$96.00

$60.80 | $64.00

20 x 25

$35.00

$45.00

$55.00

$65.00

$125.00|$135.00|$140.00

$150.00

$95.00 | $100.00

24 x 30

$50.40

$64.80

$79.20

$93.60

$180.00|$194.40|$201.60

$216.00

$136.80 | $144.00

4 x 6 Crop

8 x 12

$6.72

$8.64

$10.56

N / A

N / A

N / A

N / A | N / A

12 x 18

$15.12

$19.44

$23.76

$28.08

$54.00|$58.322|$60.48

$64.80

$41.04 | $43.20

16 x 24

$26.88

$34.56

$42.24

$49.92

$96.00|$103.68|$107.52

$115.20

$72.96 | $76.80

20 x 30

$42.00

$54.00

$66.00

$78.00

$150.00|$162.00|$168.00

$180.00

$114.00 | $120.00

24 x 36

$60.48

$77.76

$95.04

$112.32

$216.00|$233.28|$241.92

$259.20

$164.16 | $172.80

Square Crop

12 x 12

$10.08

$12.96

$15.84

$18.72

N / A

N / A

$27.36 | $28.80

16 x 16

$17.92

$23.04

$28.16

$32.28

$64.00|$69.12|$71.68

$76.80

$48.64 | $51.20

20 x 20

$28.00

$36.00

$44.00

$52.00

$100.00|$108.00|$112.00

$120.00

$70.00 | $80.00

24 x 24

$40.32

$51.84

$63.36

$74.88

$144.00|$155.52|$161.28

$172.80

$109.44 | $115.20

Pano Crop

10 x 30

$21.00

$27.00

$33.00

$39.00

$75.00|$81.00|$84.00

$90.00

$57.00 | $60.00

12 x 36

$30.24

$38.88

$47.52

$56.16

$108.00|$116.64|$120.96

$129.60

$82.08 | $86.40

14 x 42

$41.16

$52.92

$64.68

$76.44

$147.00|$158.76|$164.64

$176.40

$111.72 | $117.60

16 x 48

$53.76

$69.12

$84.48

$99.84

$192.00|$207.36|$215.04

$230.40

$145.92 | $153.60

18 x 54

$68.04

$87.48

$106.92

$126.36

$243.00|$262.44|$272.16

$291.60

$184.68 | $194.40

20 x 60

$84.00

$108.00

$132.00

$156.00

$300.00|$324.00|$336.00

$360.00

$228.00 | $240.00

22 x 66

$101.64

$130.68

$159.72

$188.76

$363.00|$392.04|$406.56

$435.60

$275.88 | $290.40

24 x 72

$120.90

$155.52

$190.08

$224.64

$432.00|$466.56|$483.84

$518.40

$328.32 | $345.60